Super easy ways to keep your 1099 paperwork organized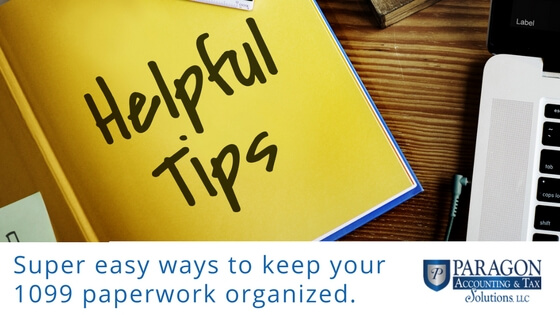 As your business grows, it's common practice to hire part time vendors to assist you. It could be for simple reasons like needing an extra pair of hands in the office or a more specific job like illustrations and creative marketing. Regardless of the job, if you are paying a non-employee more than $600 in a calendar year, you must provide them 1099 paperwork at the beginning of the following year.
Tips to organize your 1099 paperwork better.
Anyone can be an independent contractor. An independent contractor has qualifying conditions that are different from an employee. However, a specific job title does not deem someone an independent contractor.
If you pay an independent contractor more than $600 in any calendar year, you must issue them 1099 paperwork and report their income to the IRS.
Before you issue your first payment, require your contractor to complete a W9 form. If you have this complete form before payment, you are sure to have the information you need at the time of issuing 1099 paperwork. Thus, you won't be begging for signatures on documents after the vendor service is complete.
Long before issuing 1099s, obtain software or paper forms for 1099s. You'll also need IRS form 1096, which summarizes all the income reporting documents you will send to the IRS. Don't wait until January deadlines to obtain the right forms.
Consider paying your independent contractor via Paypal for easy record keeping. You can export a report from Paypal that shows annual total payments.
Outsource for successful growth
Independent contractors can be a great help to your business, especially while you are in a growing phase. That will also mean you are accumulating more expenses, invoices, receipts, and statements.
Rather than trying to do it all by yourself, consider outsourcing your bookkeeping and accounting tasks. It will lighten your load and ensure your accounting is efficient and timely. Let us help partner with you as your business grows.  We specialize in small businesses in Canton, GA; Woodstock, GA; Marietta, GA; Alpharetta, GA; and Kennesaw, GA.