Woodstock CPA Firm Nationally Recognized for Leadership and Service
When Woodstock's John Drawdy and Paragon Accounting and Tax Solutions, LLC received national recognition for professional excellence, it was a dream come true.
The Professional Association of Small Business Accountants (PASBA) recognized John and his team as Accounting Firm of the Year for 2021 for medium-sized practices.
To be recognized by your peers is one of the greatest honors there is," John says, a PASBA member since 2010.
"Small business owners using accountants with an assembly-line mentality don't know the benefits of regular consults with a CPA who is actively searching for ways to save them money," says John, whose client base has tripled since 2017. "They have no idea whether they are getting the best possible service. However, my PASBA peers know because they are living this every day. That is why this is so important to me."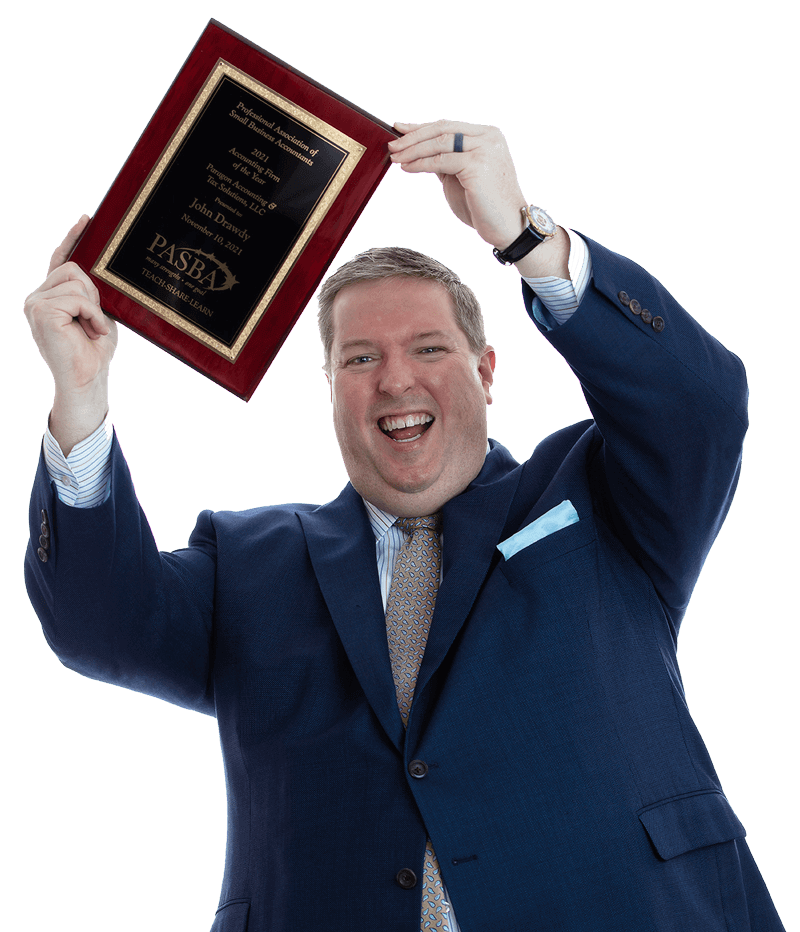 Widely known for his devoted leadership and advocacy for PASBA and with Paragon's tremendous growth, John and his team were chosen by five elite PASBA CPAs, including Bob Shaner, CPA and owner of Integra Business Solutions in Wyomissing, Pennsylvania.
"John has significantly improved his firm each year since I've known him," says Shaner, who, along with John, provides training classes as part of PASBA's teach-share-and-learn philosophy. According to Shaner, "Initially a small firm, Paragon has significantly grown in the last few years using what he has learned from PASBA but also his own desire to be great at what he does."
Shaner received the same recognition for medium-sized practices in 2020.
"I think what makes John a good teacher is his willingness to share his faults, i.e., what didn't go right so that others can be sure not to repeat it," Shaner adds. "John has been selfless in willingness to share what he has learned and this is his greatest quality."
John Estess, CPA and owner of Estess CPAs in Belle Chasse and Luling, Louisiana, and 2020 recipient of PASBA's Accounting Firm of the Year for large practices, says he and John are "passionate" when it comes to PASBA's tight-knit organization of some 300 CPAs, public accountants, and enrolled agents.
"I chose John from the nominees because of his faithful membership, willingness to help, and mainly his discipleship for the organization," says Estess.
CPA Sarah Berry of Sarah Berry, CPA PLLC in Texarkana, Texas, says award recipients are chosen for many reasons, including recruiting members for PASBA. John introduced her to the organization, and Berry was recipient of the New Member of the Year Award in 2020.
The two are in the same Financial Review Group of up to 10 CPAs who meet annually to review one another's financial statements; this group is "like our own personal board of directors to review how we are running our firms and hold us accountable to our goals."
"Whenever I share a goal with John, he's good about holding me accountable for that," says Berry. "He won't cut you any slack; he pushes us to the next level. He runs a great firm and makes sure it produces supportive products and services. It runs smoothly from everything I've seen."
Clients Come First
John built his practice using PASBA's "blueprint" for growth and increased profitability and efficiency while maintaining high standards of customer service and satisfaction for his small business clients.
Communication and tax savings are top priorities. "I love small businesses. They are the lifeblood of America, and they don't get the help they need," he explains. "I've never had a prospective client say, 'My accountant was always calling me with great ideas.' Typically, there is zero communication. We are proactive from the beginning and communicate with an average of 85% of our business clientele on a monthly basis."
While small businesses rarely receive consultative services, Paragon's CPAs make regular checkups with clients, consisting of two in-person meetings each year which include year-end conferences.
"We do a lot of 'taxsplaining' and we try to save our clients more money than they pay us, so it is essentially free," quips John. "We're not right for everybody. If they don't want ongoing service, that's okay. There are plenty of other accountants for that."
Paragon offers a range of business accounting services, including accounting, payroll, Profit First, tax planning, and tax preparation.
 Practical offerings address many pain points small businesses encounter, including a client- accounting manual, shredding schedules, and advice on how to fill out forms.
Paragon Clients Feel the Love
There is a palpable connection between Paragon and clients.
"John and his team take a different approach whereas, oftentimes, you are dissuaded from reaching out to an accounting firm," says Robert Mitchell, owner of two The UPS Store locations, including a print shop that generates 40% of Mitchell's business. "For a lot of practices, everything is billable hours, but his team's approach is, 'We'll evaluate your needs and charge you a fee for that evaluation and you utilize us as often as you need.'
It's all-inclusive which for a small business owner is reassuring."
Mitchell works with Paragon's Managing CPA Kristi Cobb as well as the team on a regular basis.
"If I'm looking at purchasing a new piece of equipment, I know I can shoot them an email, and it helps me make the right decision; they encourage me to call them and include them in that decision-making process."
Country Financial Representative Derek Good of Woodstock met John at a business networking group 13 years ago, back when the firm was just John and an assistant. Good was shopping for a CPA.
"One of the reasons I fired my former accounting firm was that trying to get information was like pulling teeth," he recalls. "John has done an excellent job for me. My first year I know he saved me about $27,000 in taxes. Over the years, he's given me ways to run my business better and to help me on the tax end. Obviously [John] has a wonderful staff and such a high level of service. If I send out an email, I'm getting some type of response within a couple of hours, at the latest 24 hours and that's good. I can deal with that."
D.D. Lee of Skyline Properties, Inc. in Acworth, Georgia, manages residential and commercial properties throughout the Atlanta metro area. She met John at a networking meeting in 2008 and the two became "fast friends."
"Prior to meeting John, I would use TurboTax or H&R Block, but my businesses and investments made it too complicated for TurboTax, and all the accountant at H&R Block did was ask me for a spreadsheet and filed taxes for me—no questions asked," explains Lee, who is assisted regularly by Cobb and Paragon Coordinator Rachel Rollins.
"As my property management business grew, I knew that I needed an actual CPA who specialized in tax planning. When I hired John in 2012, the first thing that John did was review my previous years' returns and found over $10,000 in money that was owed to me! He filed amendments on those tax returns and got my money back. Needless to say, switching to Paragon was one of the best business decisions I've ever made."
Paragon's Compelling Culture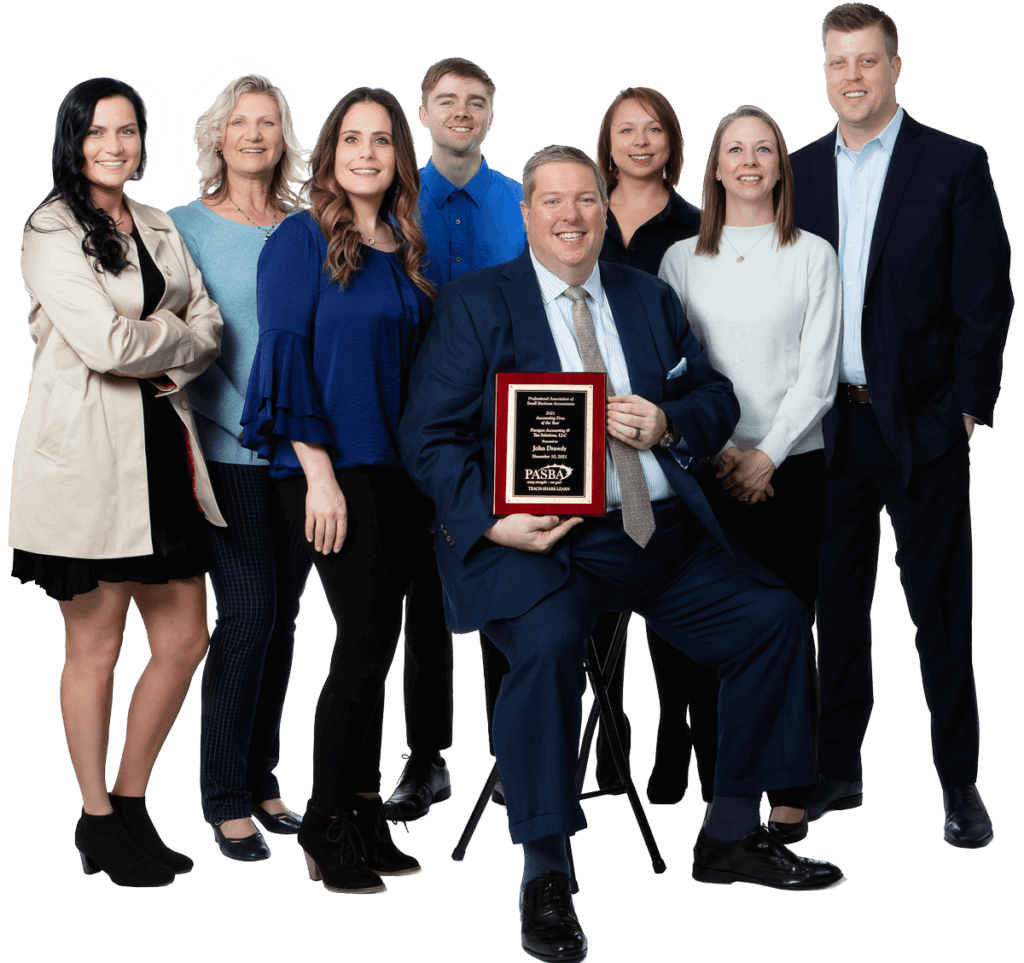 Paragon's team is a well-oiled machine accustomed to meeting customer expectations and deadlines no matter what.
"John is always willing to go the extra mile," says Rollins. "Our clients have their manager they work with, but getting everything out the door at the end of the month—it's a team effort. I think that's the greatest thing about working here."
Much like the education he offers in PASBA, John fosters learning within the walls of Paragon's offices in downtown Woodstock.
"I think the trend in all of this is never staying stagnant and always being willing to learn something new and bring something of value," says Rollins. "I started in 2017, and the firm has grown three times in size. Just seeing that growth and being able to implement strategies are wonderful. It is great to share John's wins with his peers."
Most recently Paragon received certification to offer the Profit First accounting methodology to small business clients. This is more than a new service—the firm adopted the approach and shares firsthand experience in what the advanced methodology can do to transform small businesses from cash drains to cash cows.
"You get paid first; then, the remaining cash tells you what expenses you can afford," John points out. "When you want to hire a new employee, you start putting money for that aside in a savings account until you can afford to do it."
John emphasizes the well-being of his employees, knowing as they learn and grow, they are better able to support their community of small business owners, according to Administrative Assistant Mariya Dianov. "John has created a very unique culture and environment to help everybody to grow. I think there's a really good mix of people who are so confident in their roles. We have transparency and no fear of backlash. It's a very healthy culture here."
Paragon clients say John and the Paragon team are deeply embedded in Woodstock's community. "You will see the entire team at community events whether it is an elementary school carnival or something downtown," says Mitchell. "They sponsor all the different booster organizations in the community. You see them as your neighbor. I see John when he is taking his daughter to taekwondo. We see each other all the time."
Branching Out
John continues to use his PASBA journey to inspire others whether on stage at a PASBA conference or meeting one-on-one with another accountant.
"When I joined PASBA, I was a sponge – I went to everything and I would go to meetings and hang out for an hour afterward," John remembers. "Now, I teach, and I'm a mentor working one-on-one with some members. We created a regional conference in the southeast. People will say that's our competition, but there's plenty of accountants out there and improving others doesn't hurt me. It improves our entire community."
John's willingness to help others draws a crowd. When Paragon hosted the regional conference in January it drew 27 participants, filling two conference rooms as well as online participants.
John introduced CPA Hope St Clair of Cherokee CPA Services in Canton, Georgia, to PASBA while acting as a mentor and "sounding board" for her growing practice. "I told him about my struggles and I think he identified with me because that's where he was a few years ago," shares St Clair. "It's hard to be out in a solo practice and you think you are alone, and PASBA makes it feel like you are not alone."
St Clair joined PASBA in 2020 and has been a success in her own right. Like John, who was named PASBA's New Member of the Year in 2011, St Clair received New Member of the Year recognition for 2021 for her enthusiastic commitment to the association and its principles.
"John is a very selfless person," cites St Clair. "He's always willing to help somebody else even if it tends to give away his secrets. I know he's had some tremendous growth the last five years, and he helped me double my revenue and double my staff just by pointing me in that direction."
"You have to be in the frame of mind where you are ready to embrace PASBA's methods. I just happened to identify with John, and I think everybody would."
Many, Many Thanks
John and the Paragon Accounting & Tax team could not experience new growth without the opportunity to support the same for their small business clients.
"We are eternally grateful to our clients as they are a part of this journey of excellence and success," says John. "I hope each of our small businesses knows we appreciate its support and participation in both the Paragon and Woodstock communities. Successful small businesses support our communities in so many ways, and I hope our readers will share their success stories with others in their personal and professional lives. We would be honored to help your friends in the small business niche with consultative services that save tax money."