Get Big Bang For Your Small Home Office Space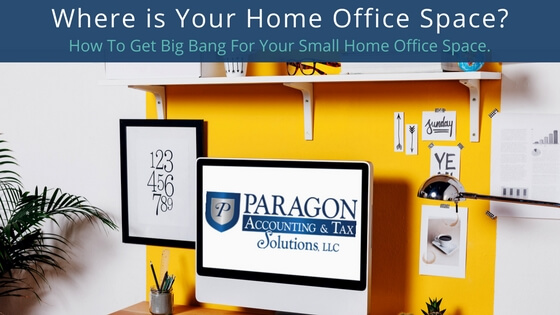 When you're setting up your home office, it might seem easy to put a table and chair in a room and claim it to be your work area. However, the IRS has more specific qualifications on the space usage to qualify for the home office deduction. In order to get a home office deduction legitimately, there are rules you must follow.
There are 4 qualifications you must meet to qualify for the home office deduction:
Your space you use must be exclusively for business purposes.
It must be used regularly for business (at least 10 hours per week).
You must use it for administrative, marketing or management activities related to your trade or business.
The deduction is only for the primary location where you conduct substantial administrative or management activities.
How To DISQUALIFY For The Home Office Deduction
Yes, there are ways to disqualify yourself from the home office deduction. Because your office is within the walls of your home, you may miss being able to get the home office deduction by mixing business and personal space. In fact, your home office must be a space exclusively for business usage. That means it cannot be a space where your children do their homework or a space where you also do the cooking. If you share the space with personal activities, you lose the ability to claim the home office deduction. In addition, you want to avoid doing too many administrative activities outside your home office space. There are some exceptions, such as doing administrative work while in a car or hotel. Also, there are allowable exceptions if you hire a third-party to do your management activities.
Strategic Planning For Your Home Office Space
If you want to get the most for your home office space, strategically construct an area to do your work. Many people use a spare room within their house that has a door. It makes it easy to close the office door to separate the home from the work area. Others empty a closet with bi-fold doors and designate that space exclusively for their home office. Some businesses need to store items and use a large section of their basement. Whatever way you choose to segregate it doesn't matter as long as it is a separate and exclusive area.
In addition, your work space doesn't have to be inside your residence. In fact, you can setup a work space as a separate area on your property as long as it remains only for business usage. Some of my clients take photos of their home office space and we like to keep records of the square footage of usage on your property.
Business Startup or Office ReDesign?
If you're planning to setup a home office space or you want to redesign it, contact us first.  If you are planning to redesign, remember to do donations for tax deductions. Donations are a better deal for you than garage sales or trashing it. We, at Paragon,  specialize in small business monthly accounting and tax preparation. Let us partner with you to ensure that you get the most in tax savings from your business.
Source images:
http://www.houzz.com/photos/29875/Cole-Street-traditional-home-office-san-francisco